HOME > Functional Films > Nanoimprint
Functional Films
About Nanoimprint
The moth-eye structure, created by biomimetic technology, has an uneven structure of several hundred nanometers and significantly reduces reflection in the visible light range. Due to its anti-reflection function, high contrast and transparency, it is attracting attention as a structure that suppresses surface reflection and glare for display and digital signage applications.
Nanoimprinting is a microfabrication technology in which a "mold" with microscopic irregularities like a moth-eye structure is heat-pressed or UV-irradiated onto resin to transfer the shape of the mold.
Biomimetic technology is a technology that mimics biological methods and systems found in the natural world to help design engineering systems and technologies.

Applications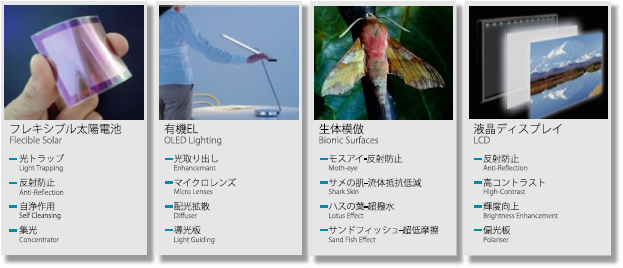 Top of page

Functions by nano- and micro-structures 
Anti-reflection function
Moth-eye

Unlike conventional anti-reflection coatings, it does not require multi-layer coating. The anti-reflective effect is achieved by nanoimprinting to create a sub-wavelength scale surface profile. The INOX nanostructure uses a moth-eye structure. The moth-eye shape creates a gradual refractive index distribution that reduces the visible light reflectance from 4% to less than 0.5%.


 R&D mold >HT-AR: Moth-eye
Light extraction enhancement function
MicroLens Array (MLA)

Compared to conventional microlenses of the same size, there is no dead space between the lenses, and the microstructure enables uniform control of the output light.


 R&D Mold >HT-MLA: MLA
Optical Control
Engineered Diffuser
The special light distribution structure on the surface enables light to be diffused evenly while maintaining high transmittance. This structure can control the light emitted from general light sources, lasers, LEDs, lighting fixtures, and backlights used in LCDs, etc.


 R&D Mold>HT-ED: Engineered Diffuser
Top of page

Service
We provide molds of moth-eye, microlens, and light distribution diffusion structures fabricated by interference lithography method for nanoimprinting R&D.
We offer trial production of film samples for companies that do not have the initial study of nanoimprinting or imprinting equipment. We can process various plastic and glass substrates. Adhesive processing is also available.
We can handle large mold area by interferential lithography and special structure by special mask or maskless method. We also offer services related to molds, such as joining small molds together and special electroforming copying (which prevents the destruction of the master mold).
Top of Page

Partners
temicon

IMRE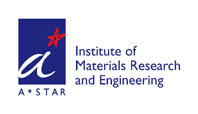 Top of page